In the last couple of months, two things in Tanzania have become obsolete: the first is plastic bags and the second is me.
In an effort to be more environmentally sensitive, cut down on waste, and keep this beautiful country clean, President Magufuli instituted a "plastic bag ban" that went into effect in June 2019.
In an effort to enable development to take place unfettered by Western constraints, provide an opportunity for local leadership to hold the reins, and allow one tiny, aged American to reclaim some semblance of her former life, The Toa Nafasi Project became a Tanzanian-led organization in September 2019.
Yes, my friends.  It is true.  I will be leaving Tanzania after 12 years of living here in the hopes that Toa Nafasi, in its toddler years, will learn to walk and talk and grow and sow seeds that will long outlast not only my tenure with this amazing organization, but all of our current staff members' and beyond.
The work we have done to support students with learning difficulties in the public primary school system in Kilimanjaro has been a highlight of my life thus far.  I am proud to have founded this project and surrounded myself with people who were in positions to support us: professionally, financially, emotionally.
Each and every member of the Toa staff, all the students with whom we have worked over the years, all the partners, consultants, and volunteers who we have encountered along the way, everyone has found a way into my heart and there is no part of this experience that I can ever possibly forget.  Indeed, as my days are dwindling down here in Moshi, my mind often wanders to the many memories I've made, sometimes disbelieving the challenges we've overcome, the triumphs we've won, and just how much time has passed since I first set foot in Africa on July 4th, 2007.  That truly was my Independence Day.
But, just as with plastic bags, my time has come.  The change is hard, don't get me wrong.  For those readers who know me personally, you know how conflicted I am.  But certain circumstances have led me to this decision and I do not regret it.
2019 is the first year since Toa co-founder Vumi Temba's death four years ago that I did not visit her gravesite.  In fact, I am mildly ashamed to say that I forgot about my annual sojourn to her family plot in Marangu on July 24th.  However, I say only "mildly" because Team Toa came off a stellar July this year featuring multiple visitors and volunteers as well as the IASE conference in Lushoto at which 8 of my Tanzanian colleagues had the opportunity to be in attendance.  That I forgot was not great, but that it was due to a period of tremendous growth and activity for the project actually IS great.  I imagine that somewhere up there, Vooms is shaking her head and wagging her finger at me: "Wewe, Sarah, bwana, umezeeka!"  She would tease me for sure about becoming old and forgetful, but she would also be proud as hell at what we've all accomplished even without her at the helm.
Actually, I am not at all certain that she is not still at the helm….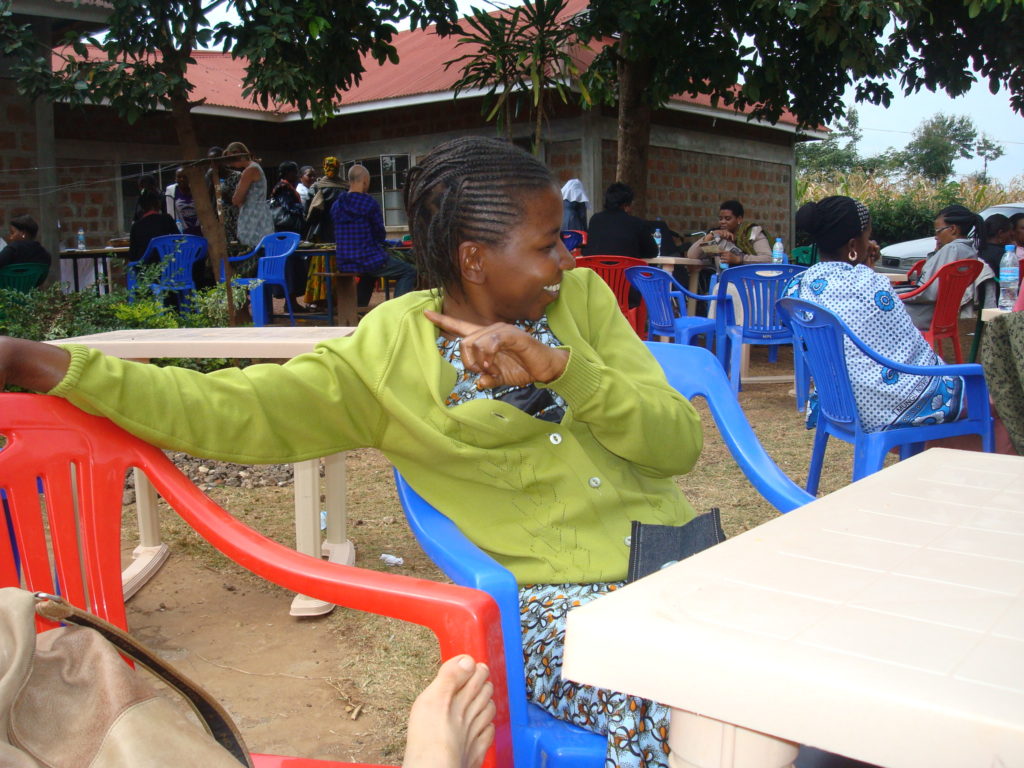 And now to say goodbye….
To my current colleagues: The hiring and training of so many of you this year is such an exciting development, and I am so pleased with how both the teachers and the administrative staff are coming along.  It makes my heart swell to think that some little project I dreamed up more than ten years ago is now not only feeding you and putting your children through school but also giving you a professional persona and an active interest in your jobs rather than simply a means of collecting a paycheck.  Well done, you guys.
To all the children I've known these many years: I love you.  I started this organization because of you.  Your innocence and voicelessness touched me.  I was moved to do this work because I wanted to help you help yourselves and now you have a whole cadre of caring adults to support you, not just this one crazy mzungu.  Be good, kids.  Don't give up even when you are most tempted, even when life is most hard, even when your Ss look like Zs and your 6s like 9s.  It's gonna be okay.
Finally, to Tanzania: You have done a number on me, wewe.  Up until my final days of living here, I am not sure if I can boil my emotions down to simply a "love/hate" relationship.  Like Facebook says, "It's complicated."  But it's been extraordinary, that's for sure.  And, honestly, I wouldn't have done it any other way.
PS: To our current donors and potential new friends, please continue to support The Toa Nafasi Project.  I will be still be active in its running, just from the States as opposed to on-the-ground.  Don't give up on us now; this is development in action: leadership passing from the hands of the founder into those of the community.  You won't want to miss what happens next.