Hi guys.  Many of you receive our quarterly reports every January, April, July, and October, but for those visitors to the blog/website who don't, I have reprinted the 2020 Q1 newsletter below.
This is an historic report btw – it's the first one not written by yours truly but rather by Susan Goodwillie, our Strategic Consultant since January.  Susan may technically be working with us part-time, but she is FULL-TIME saving our turkey bacon in East Africa since my departure in early September!  Alongside Augustino, Ema, Hyasinta, Navo, and all the tutors, Susan has already accomplished a ton this first quarter and we are thrilled to have her on the team!
####
Hello,
My name is Susan Goodwillie and I am proud to have joined The Toa Nafasi Project in January as a Strategic Consultant.  My role has been to support the amazing Tanzanian staff on the ground and help think about the long-term direction and sustainability of the project.  I have been so grateful these past three months to be working alongside Augustino, Ema, Sarah, Hyasinta, Navo, Kristin, and the many incredible tutors, head teachers, board members, volunteers, funders, and community members in Moshi and abroad who are making this important project happen every day!
Despite the exciting progress we've made so far this year, we are of course having to manage the devastating global impacts of COVID-19.  2020 has arrived like a hurricane in many lives around the world and while we do not know how long it may last, we must rely on one another to weather the storm.
In that spirit, I want to share with you a bit about our Quarter One progress, as well as provide a message of hope as to how we plan to continue supporting children with learning differences in Tanzania.
With best wishes,
Susan
Tutor Leader Hyasinta Macha presents The Toa Nafasi Project at a parents meeting at Shaurimoyo Primary School
In February, Toa's staff conducted parents meetings at all 11 schools in which we work in to explain the program and how we – with their participation – can support their children.  Read more about these meetings on our blog!
Head Tutor Doreen Ulomi tests a pupil at Jitegemee Primary School
COVID-19 is impacting education around the world, and the same goes for public schools in Tanzania.  As of March 17th, schools in Tanzania were closed for 30 days.  This closure has unfortunately come during the middle of The Toa Nafasi Project's first round of testing for new Standard One students.  So, while our results might come in a bit late, we're prepped and ready to begin again as soon as schools reopen.
Thankfully, we were able to complete testing for the students from last year who participated in our specialized pull-out program and have now moved on to Standard Two!  We're currently in the process of analyzing that data and will share it with you in our next quarterly update.
A classroom at Jamhuri Primary School – BEFORE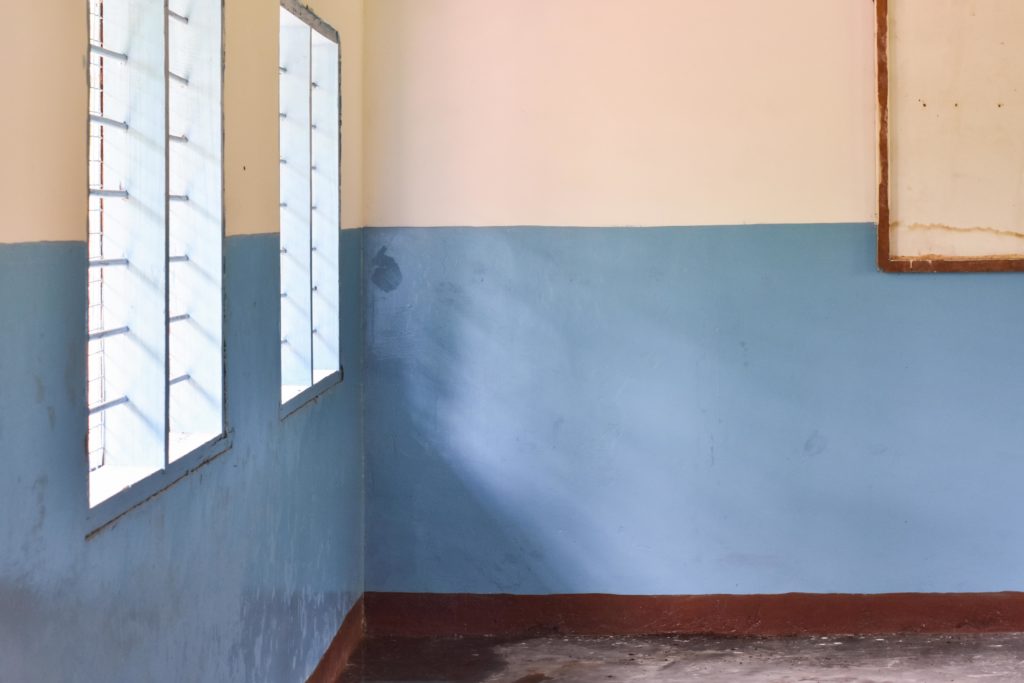 A classroom at Jamhuri Primary School – AFTER
We're getting our hands dirty!
In order to improve the learning environments of The Toa Nafasi Project's students, we have received funding from Friends of Tanzania to implement a classroom and toilet refurbishment project!!  By bringing parents, teachers, and headmasters together, we are going school by school pouring new floors, repainting walls, rebuilding windows and doors, and generally sprucing up a few classrooms in 10 of the 11 schools with whom we partner.  We've already completed repairs in three schools – Jamhuri, Shaurimoyo, and Kiboriloni Primary Schools.
Toa tutors march in Moshi on International Women's Day
Toa's Augustino and Songambele's Abdulah participate in the Kilimanjaro Marathon
We're expanding our networks!
Toa has built new partnerships with other Tanzanian organizations to open new doors for advocacy and impact.  We have now participated in two incredible community events with Songambele (meaning "move forward" in Swahili) to advocate for the rights of women and people living with disabilities.  Songambele is a local NGO that promotes and encourages good health, education, wellbeing, and social inclusion for women, girls, and children with disabilities in Tanzania.  For more information about those events, check out our blog.
We're also embarking on a new partnership with Tai Tanzania.  This youth-led NGO based out of Dar es Salaam provides sexual and reproductive health education in secondary schools using edutainment methodology.  We hope to work with them to develop some animation videos for our parents, teachers, tutors, and students to talk about what The Toa Nafasi Project does and how to support children with learning differences!
Meet Kristin Haas!
Since January, we've been very lucky to have Kristin Haas volunteering with us weekly, supporting with research, monitoring and evaluation, and fundraising.
Kristin is no stranger to Toa Nafasi or Tanzania.  She lived and worked in Tanzania from July 2017 to August 2019.  During that time, she worked at Seed Change Tanzania in Kigoma on a livelihood project to support farmers and at The Small Things in Arusha to support vulnerable children and families.  She did communications, program management, donor communications, microfinance initiatives, and volunteer management.  It was during that time that she got to know about Toa and wanted to find some way to be involved.  Now that she is back in the US, we're putting her to work and consider ourselves very fortunate for her skills and experience!
"STORIES OF HOPE"
Insecurity makes it hard to plan for the future.  While some are experiencing this level of uncertainty for the first time, it's important to remember that many people around the world live with this kind of insecurity every day.  Projects like Toa Nafasi are working hard to change that.  Our presence in the public school system in the Kilimanjaro region of Tanzania is critical to providing opportunities and hope to many students who would otherwise be left behind.  We'll leave you with this "story of hope" and look forward to checking in again in a few months.  Thank you for your continued support and helping to provide a chance for these children!
"From Silent to Vibrant: A Toa Alumna Success Story"
When Ruth started Standard One at Msandaka Primary school in 2016, she could hardly speak.  When a teacher or fellow classmate would ask her a question, try as she might, no words would come.  Government teachers at Msandaka were at a loss as to how to support her and ultimately came to believe that she did not belong in their classrooms.  Ruth could have easily fallen behind in her first year of schooling.
However, The Toa Nafasi Project was able to identify Ruth's challenges during our observation and testing period, which is done at the beginning of each academic year.  She was found to have a "heavy tongue" or Dysarthria, a condition in which the muscles used for speech are weak or atrophied.  Ruth was enrolled in our specialized pull-out program, in which students who need a bit more care and attention are removed daily from their regular classes for short one-on-one or small group sessions with our trained tutors.  In this specialized setting, our tutors were able to invest the time and skill needed to support Ruth and, little by little, she was able to start talking and participating in her regular classes!
Ruth is now in Standard Six.  She now performs well in school and has the skills to continue with her education on her own.  Ruth's story highlights the importance of early intervention and the kind of critical service that The Toa Nafasi Project provides in public primary schools in Tanzania.
Tutor Glory Chacky reads a storybook to young scholars at Shaurimoyo Primary School