Education volunteer Belina Modest held her 3rd workshop with the Toa Nafasi tutors on July 17th and this time, the topic was "Children's Reading."  Please enjoy the report below!
####
"Belina facilitated the workshop with the topic "Children's Reading," employing a participatory method of sharing by the teachers to help her and the participants to have a wider understanding of the topic generally.
She gave the teachers a chance to share different opinions concerning children's reading and to explain what they already understand about it.
Then the facilitator started the training by giving a short definition concerning children's reading by stating that there are two views that define reading: the broad view and the simple view:
• The broad view emphasizes reading as a process of understanding written text.  It emphasizes that reading involves a process of extracting meaning and it is based on mental processes such as thinking, reasoning, imagination, interpretation, and previous knowledge.
• The simple view claims that reading consists of two things such as decoding and linguistic comprehension.  Decoding involves a word recognition process that transforms written or printed words, and linguistic comprehension is the process by which words are interpreted.
After that, the teachers started to discuss questions Belina had provided to them and from here she chose randomly anyone to give answers they had discussed.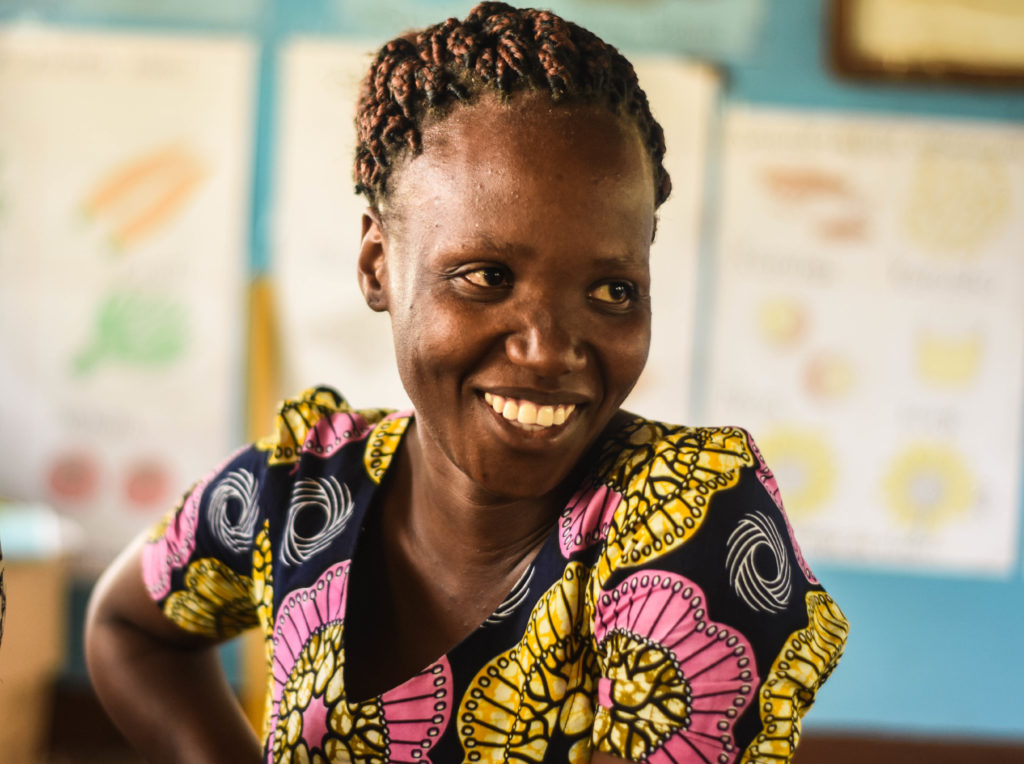 The teachers were cooperative and shared their ideas concerning the topic such as:
• What factors affect children's reading?
• Which methods do you use to identify children with reading difficulties?
• Which methods do you use to introduce a child to reading?
When the teachers finished sharing their ideas, Belina explained about: (1) the processes involved in reading development; (2) the stage models of reading; (3) the factors affecting children's reading which teachers need to take note of and work on in order to help children in the reading process; (4) and the methods teachers need to use in improving children's reading:
(1) THE PROCESSES INVOLVED IN READING DEVELOPMENT • EMERGENT LITERACY
This refers to the phase from birth until the beginning of formal instruction.  Children develop insights about reading concepts, print concepts, and different letters.  Children can learn how to turn the pages, how to hold the books.  The knowledge which children acquire on reading depends on the community and the language on where they are living (social – linguistic – community).  The culture supports the development of reading in children on how children are exposed to books.  Literacy depends on the social – economic context.  Learning develops as children are exposed to print materials.
• WORD RECOGNITION PHASE
Kids are introduced to formal reading instructions.  It could be at pre-school or at home, and it differs according to the ages of the children but also according to the country.  Children are introduced to read fluently.  The emphasis on this stage is on developing learners' sound-letter relationship and symbols/words recognition skills.
• COMPREHENSION PHASE
Children grow an ability to comprehend the text.  A child cannot comprehend the text without understanding the syntax and vocabulary.  Children start to construct knowledge from written text.
(2) THE STAGE MODELS OF READING
• PRE-ALPHABETIC STAGE
Word identification begins by showing a child letters.
• PARTIAL ALPHABETIC STAGE
The adult pronounces and the child repeats.
• FULL ALPHABETIC STAGE
The child can now process all letters in a word.
• CONSOLIDATED ALPHABETIC STAGE
The child is now reading fluently.
(3) THE FACTORS AFFECTING CHILDREN'S READING
EXTRINSIC FACTORS
• Lack of parental involvement
• Over-loaded tasks
• Home situation
• Mother tongue at home
• Class size
• Effect of motivation
INTRINSIC FACTORS
• Auditory processing deficit
• Visual-based
• Language problem
• Phonological awareness
• Phonological retrieval
• Phonological memory
• Phonological production
• Mental retardation
(4) THE METHODS TEACHERS USE TO IMPROVE CHILDREN'S READING
• Remedial classes
• Parental involvement
• Culture of reading at home
• Repetition
• Mixing students
• Prepared classroom environment
• Teaching systematically
After presenting the group with her materials, the Toa tutors then accepted to add some methods in order to improve children's reading outcomes such as cooperating with parents to find out what the factors adversely affecting children's reading are, and teaching each child according to his/her stages and levels.  They agreed that the teachers should follow the stages in teaching children how to read and that they should acknowledge the needs of individual children.  Finally, teachers should encourage children to love reading and to read by themselves even at home."
Who else is as impressed as I am by Belina's trainings?! Methinks Toa + Belina = a match made in heaven!!