Recently, we started giving our tutors at Toa Nafasi the chance to train their fellow tutors on what they are good at or interested in during the Friday Workshops.  We believe that through this platform tutors can gain confidence by sharing knowledge of what they know best.
Our education volunteer Belina took some time to coach the trainer of the day before the workshop day by sharing presentation tips, dos and don'ts, and a lesson plan that will guide the tutor throughout her session.  The lesson plan shows how much time should be spent on the introduction, group assignments, Q&A, etc. to make sure she is not spending too much time on one area as only 60 minutes is allowed for the workshop.
Below please find the report from the first such tutor-led workshop by Sauda Mbaga who has been with Toa for not even one full year yet and is already making quite an impression on her colleagues!
####
The workshop started at 1pm on Friday, August 28th and all attendees were welcomed by Mr. Augustino, who introduced the day's facilitator, Madam Sauda Mbaga, a Toa Nafasi tutor.
Next there was an introduction of the topic called Drawing, and Sauda spoke about the main theme of the topic and explained how she was going to conduct the session which would be participatory.  On top of that, she asked some questions and gave room to the tutors to respond and share their ideas: What is drawing?  What are ways to follow in drawing?  What are the advantages of drawing pictures in class?
Sauda then explained what she means when she talks about drawing and the tools she uses in drawing.  Drawing is the art of conveying a message or teaching through imagery.  One uses various colors in drawing.  People use drawing in many different professions such as business, engineering, education, and crafts.
She mentioned the things to consider when drawing and all the steps to follow in order to draw a good picture.  There are different types of drawing like painting but it depends on the artist herself and what she likes to draw.  Sometimes this art is not only used to convey a message but also to be pleasing to the viewer.  Most artists need to have a pencil, paper, eraser, and marker pens as well as a chair and table and a workspace with enough light.  Before starting, you should look at the setting of the drawing you are going to draw.  If you are afraid to make a mistake, start with some dots to help place your drawing properly.
In a classroom, the drawing must be big enough for all the students to see clearly and it should match the subject you want to teach.  If you are arranging pictures within the room, consider placement and group by subject such as the "science corner" with all science drawings.  This will attract the pupils and help them enjoy their studies.
To finish up, Sauda talked about how she wanted to help her fellow tutors to know drawing well so that they can be able to draw good pictures which will be used in teaching their students.  She showed different pictures she drew and explained how tutors could use them in teaching different subjects and also she explained the meaning of every drawing she had prepared.
The tutors agreed to use the methods taught in drawing to prepare to different materials for teaching children besides what they normally use.  They also committed to prepare attractive pictures and put them in the classrooms to create an environment in which children will enjoy learning.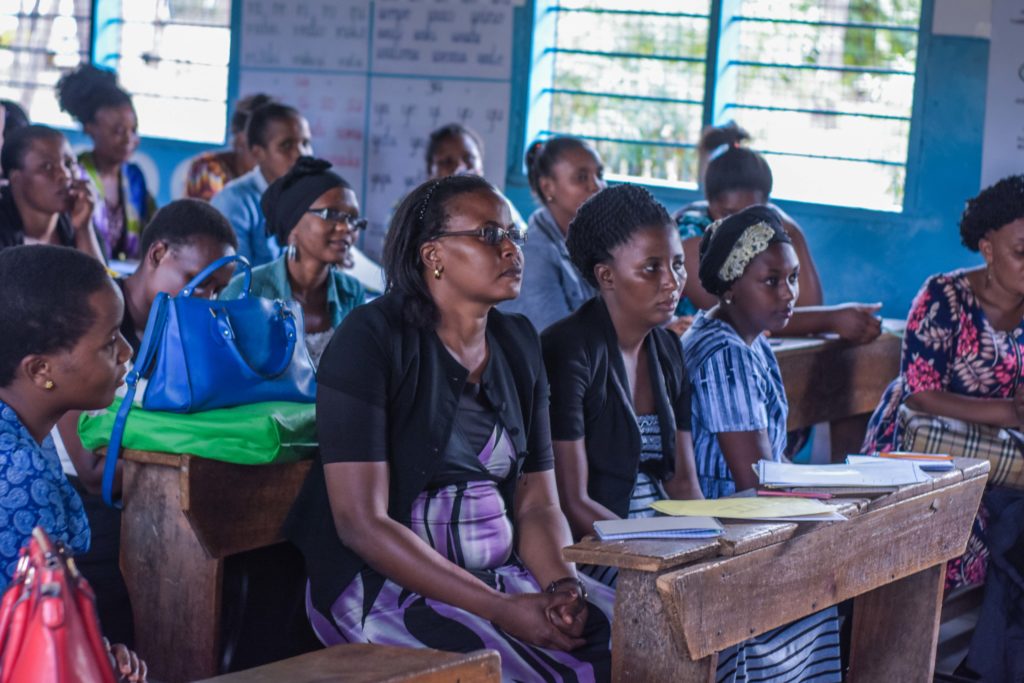 Afterwards, Augustino remarked that it's good for every tutor to participate in the workshops and present their talents to the other like how Madam Sauda did because it helps them to build confidence and get experience of talking in front of the masses.