On March 19th, 2021, members of The Songambele Initiative returned to Mnazi Primary School for another Friday Funday.  Check out the report from the ground below!
####
"There were sport and games at Mnazi Primary School!  They involved the Toa Nafasi team (Tutors Nelly Lyatuu and Victoria Winston) and the Songambele team (Mr. Abdul).  There were different outdoor games where children were divided into groups and each group had its own game.
Some students began playing football and competing between boys and girls.  On this day, the boys won the game.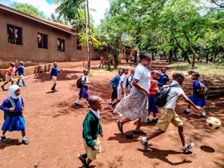 Also, some students played puzzle games whereby they had to assemble pieces of a puzzle to form a final picture and then to talk about the picture they had formed.  Others played a game of throwing a ball to each other, and the child who does not receive the ball becomes the loser of the game.
The children did different physical exercises, sang and danced in groups, and were led by Madam Victoria in a game of rede.
The recommendations from the staff at both Toa and Songambele are that games enhance a child's physical, social, cognitive, and emotional well-being, and that therefore tutors should make sure that all children participate in sport and games and have enough time to play."